Thank you to all of my readers for sticking with me after I needed to lay an honesty bomb last post. I promise, most of my future posts should be fun, but I just had to get that off my chest.
Now – for fun and fondue!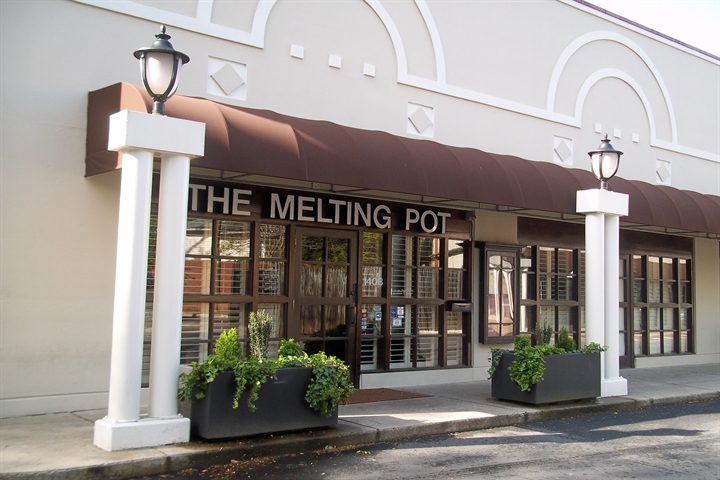 Guys – if you have never been to a fondue restaurant, what is keeping you? It is just such a fun experience, and the food is delicious too!
My friend Maura and I went to The Melting Pot because it is restaurant week here in Charlotte! The four-course menu was $35 each as opposed to the regular $40+, and there were even drink specials!
Furthermore, since it was Tuesday, all bottles of wine under $75 were half price! We got a bottle of Riesling that was $24 during restaurant week for $12! So I basically had 2 glasses of wine for $3 each – doesn't get any better than that!
(By the way, check out this site if you're in Charlotte and looking for half-off wine bottles while dining out!)
The first course was cheese fondue. We chose the Green Goddess and Tomato option.
The Melting Pot's "Green Goddess" is a delicious dip of cream cheese, sour cream, chives, onions, and who knows what else that literally makes everything 10x better. Adding it to our cheddar cheese fondue was sheer perfection.
Cheese was followed with a salad course, but of course I forgot to get a picture! I love their House Salad – it comes with a tangy dressing that pairs incredibly well with the hard-boiled egg slices.
Next was the main course of assorted meats and veggies that are cooked in one of four different cooking styles. We did the classic seasoned court bouillon, but the coq au vin is a favorite too!
I opted for all beef: filet mignon, blackened filet mignon, and NY strip. Maura was a little more varied with her choice, which included beef, chicken, and some seafood options. We shared a bowl of broccoli, squash, potatoes, and mushrooms. It's crazy how much flavor those veggies absorb!
We were given 6 different dipping sauces to accompany our meats and veggies, including the Green Goddess that I raved about earlier.
And then we made it to the Grand Finale – chocolate!
Oh yeah. We chose s'mores.
Delicious dippers for the chocolate included bananas, brownies, marshmallows, pineapple, strawberries, pound cake, Rice Krispie treats and more!
All in all, we had a fantastic fondue adventure! I will certainly be back next restaurant week (and hopefully sooner)!